A reference architecture (RA) is a synthesis of best practices based on past experience. Alternatively a "vision" or a conceptual framework that aims at:
shaping the future
improving over state-of-the-art design
rather than at building systems faster and with lower risk.
A generic RA is one that, while addressing a given field of technology, is not targeting any specific application, domain, industry or even sector. Its value is mainly communication towards the general public. As such, it's basically an ontology and/or a mind mapping tool.
In FAR-EDGE, we feel that starting from an effective RA is of paramount importance for exploring the business value of innovative computing patterns applied to the smart factory. To this goal, we developed our domain-specific RA, using some well-known and accepted generic RAs as sources of inspiration, so to be consistent and compatible with the mainstream evolution of the smart factory, Industrial IoT and Industry 4.0.
FAR-EDGE RA is an asset not only in the scope of the project (as basis for the Platform's design), but also in the much wider scope of factory automation, where it may guide the design of ad-hoc solutions having edge computing as their main technology driver.
According to the FAR-EDGE RA, the Functional Viewpoint of a factory automation platform can be decomposed into three high-level Functional Domains – Automation, Analytics and Simulation – and four Crosscutting (XC) Functions – Management, Security, Digital Models and Field Abstraction & Data Routing. We have tried to map them to similar IIRA concepts.
From a Structural Viewpoint, we have four Tiers: Field, Edge, Ledger and Cloud. With respect to the mentioned generic RAs, the real novelty is the Ledger Tier, which is where distributed processes running on the Field and Edge levels are actually synchronized and coordinated before being "exposed" to user applications living in the Cloud Tier. It is worth noting that, while the FAR-EDGE RA is just a conceptual framework, the Ledger Tier implies the use of Distributed Ledger Technology  for the implementation of compliant platforms.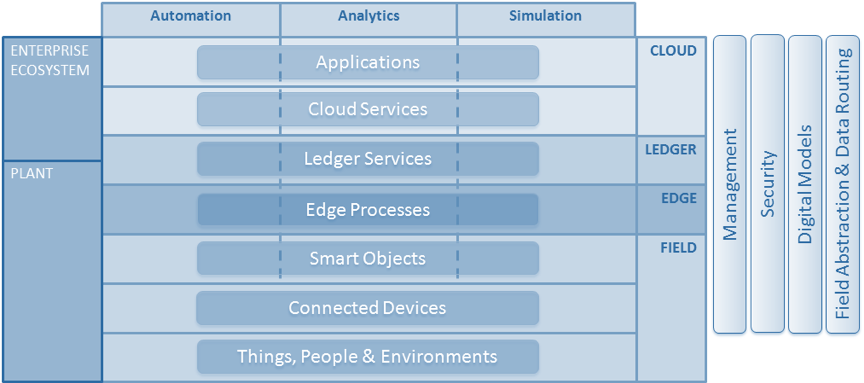 Tell us how can we improve this post?